Pilgrims, turkeys, and pumpkin pie. These traditional images come to mind as we plan family time around the Thanksgiving holiday. We all have a favorite-the potatoes, the stuffing, the cranberries, or the whole meal! Then there's the football game or the Scrabble game, a puzzle, or a nice nap. We spend precious moments making life memories for ourselves and for those we love. We may even take a moment around the table to name something for which we are thankful. These are all good things, good traditions to pass on to our children. In the routine of our holiday planning, however, we can sometimes overlook the meaning of true thanksgiving.
Long before the Pilgrims and the Native Americans joined together to feast and be thankful that first American Thanksgiving, God in His Holy Word spoke to us about thankfulness. The Psalmist in Psalm 95:1-2 says, "O come, let us sing for joy to the LORD, let us shout joyfully to the rock of our salvation. Let us come before His presence with thanksgiving, let us shout joyfully to Him in psalms."
Here I am reminded that the reason to be thankful is Jesus, my Salvation. His blood was shed for me. His death, His resurrection, and His victory over sin and death give me hope! The reality of my desperate need and the overwhelming generosity of His provision humble me. I have nothing to give or to offer. Yes, for me He gave all. How can I not be humbled by the reality of a Love that would not let me perish?
My humility in turn is fertile ground for thankfulness. His Word opens to me the greatness of this God who loved and rescued me. I especially like Psalm 136. Think of it! The all-wise and powerful Creator, the righteous and merciful One, remembered us in our lowly state (vs. 23) and gives food to all flesh (vs. 25).
1 Thessalonians 5:18 says this: "In every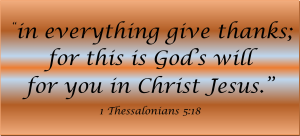 thing give thanks; for this is God's will for you in Christ Jesus." When we are grateful for what Christ did at the cross, then we better understand that all we have is from God our Father. As we join together with family, friends and fellow believers to celebrate Thanksgiving, it is my prayer that we would come with humbled hearts full of gratitude and thankfulness. Les us shout joyfully to the Rock of our salvation!
Faylin Myhre
Text Excerpt from Threads of Grace, p.357, ©2012 Ambassador Publications, reprinted by permission. This devotional book is available at www.ambassadorpublications.org/store