See some of  WMF Bible Studies.
Download - NEW Order Form to order copies of these and additional studies. 
2023 STUDIES 

Women of Redemption

  can now be ordered.
PLEASE make checks to WMF of AFLC and send payment with the order form to Executive Secretary Dawn Johnson, 2991 30th Ave. Wilson WI 54027.
Women of Redemption
Written by Tami Demo and Michele Mobley
       Throughout this Bible study we hope for you to learn that God's perfect plan does not depend on your perfect obedience but on God's perfect Sovereignty. We will look at these Old Testament women who lived imperfect lives and yet God's plans still prevailed. Be encouraged that God's will is sovereign no matter how flawed we are. Just like the women of redemption in this study, God rescues us from our sin, we are restored to a relationship with Him and through His faithfulness, we are redeemed.
"For He has rescued us from the dominion of darkness and brought us into the kingdom of the Son He loves, in whom we have redemption, the forgiveness of sins."  Colossians 1:13-14
The 2023 WMF Bible study Women of Redemption will be $13 each.
Lesson Titles
Eve -  Rescued from Shame  -  Forgiveness 
Hagar -  The God who sees me  -  Known
Leah -  This time I will praise the Lord  -  Steadfast Love  
Tamar -  She is more righteous than I  -  Righteousness
Rahab -  The kindness of God  -  Kindness
Deborah -  Godly leadership brings rest  -  Leadership
Naomi -  Where you go, I go  -  Relationships
Ruth (Part 1) -  Determined Faithfulness  -  God's Favor  
Ruth (Part 2) -  Determined Faithfulness  -  God's Rest    
Hannah -  In her deep anguish she prayed  -  Humility
Abigail -   Abigail acted quickly -  Discernment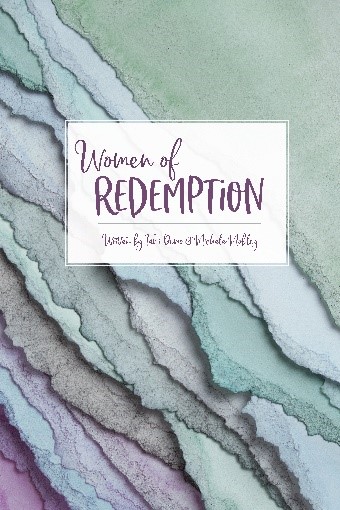 Behold Our God
Written by Karen Floan, Anne Presteng, Gwen Berge and Wendy Westlake
As we behold God in Psalms 90-100, we are overwhelmed with His mighty power as Creator and Ruler of heaven and earth. We are humbled by His holiness and His plan of Salvation. We see His faithfulness in our lives and throughout all generations.
Overwhelmed by joy or overtaken by sorrow, God hears the cry of our hearts, He draws us to Himself, and His presence changes us.  It is the Almighty God who lovingly commands us to praise Him for our good and His glory.
May you be blessed as you "Behold our God" in the Psalms.
Cost $13 each, includes the cost of shipping. (2022 study)
Lesson Titles
1. Behold the Eternal One—Psalm 90
2. Behold God our Dwelling Place —Psalm 91
3. Behold God's Ways—Psalm 92
4. Behold Christ's Kingdom—Psalm 93
5. Behold the Just One—Psalm 94
6. Behold the Rock of our Salvation —Psalm 95
7. Behold the Righteousness One—Psalm 96
8. Behold God Who Reigns in Power—Psalm 97
9. Behold Him, Savior of All the Earth —Psalm 98
10. Behold God Holy in Power, Justice and Mercy—Psalm 99
11. Behold Our Shepherd King—Psalm 100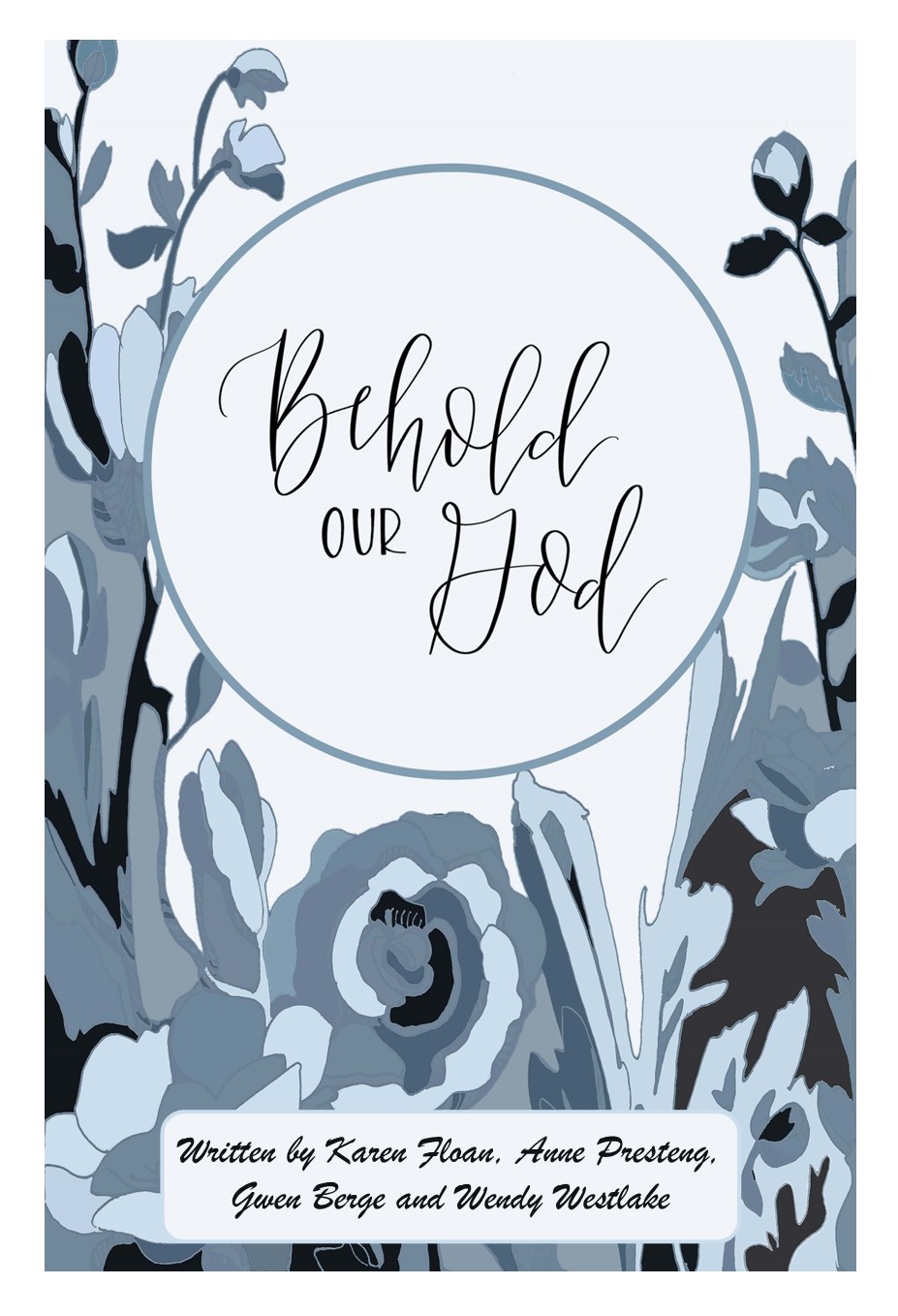 A study on 
          1 Timothy
by Jeanette Berntson
This is an inductive study on 1 Timothy. Why is what you believe important? Does it matter what we do at church? Does it matter how we live? Should we have requirements for our pastors? God has given us clear teaching on the role of the church. He wants us to hear His Word. He wants our churches' teaching and our beliefs to be the same doctrine found in the Bible. Only teaching from God's Word has the power to create repentance, faith, and love. Jesus came to save sinners and He brings His salvation to the world through His Word, preached and believed by the Church. May God bless you as you study 1 Timothy.
God wrote this letter through the Apostle Paul to Timothy. Paul often refers to truths from other parts of the Bible. Timothy had studied God's Word and knew what Paul meant. To understand 1 Timothy we will also take the time to learn what God teaches us from related Bible passages.
Cost $12 each, includes the cost of shipping. (2021 study)
11   LESSONS
  1. Is Your Doctrine Sick?
  2. Jesus Came to Save Sinners
  3. Jesus Came to Save Sinners (Continued)
  4. God's Desires for the Church (Part 1)
  5. God's Desires for the Church (Part 2)
  6. God's Desires for Pastors and Deacons
  7. God Uses Pastors to Save You
  8. Instructions for the Church (Part 1)
  9. Instructions for the Church (Part 2)
10. Beware of False Teachers' snares
11. Fight the Good Fight of the Faith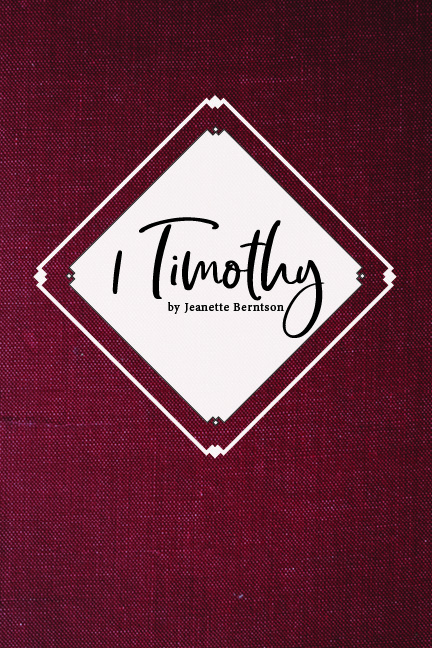 DON'T FOLLOW YOUR FEELINGS
- by Linda Korhonen
Our world is confused and hurting. Young and old are being deceived by a culture that doesn't know what truth is! Many don't want to know! Most people just want their own way regardless of the consequences. Where can we find hope and healing? How can we protect our children and grandchildren from the lies that are bombarding them every day? GOD through His Word is our source of absolute truth. May these lessons equip and prepare us to know what God says and to help others whose feelings have misguided them.
Jesus said, "If you hold to my teaching, you are really my disciples. Then you will know the truth, and the truth will set you free" (John 8:3132).
Cost $12 each, includes the cost of shipping. (2020 study)
11 LESSONS

1. The Truth About Feelings
2. When I Doubt if I'm Saved
3. When I Feel Hopeless
4. The Poison of Unresolved Anger
5. When I Can't Understand Why
6. Love is Not Just a Feeling
7. The Lure of Sexual Sin
8. Choosing Death is Not the Answer
9. Becoming a Slave to Fear
10. The Infection of Bitterness
11. Knowing God's Will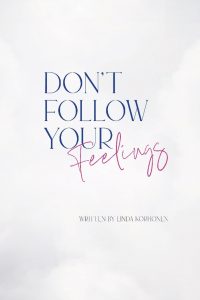 GOD'S SERVANTS TEACH US LIFE LESSONS
- by Beverly Enderlein
"I see the Lord always before my face; He is at my right hand, that I shall not be moved. Therefore, my heart rejoices, my tongue is glad, and my flesh also shall rest in hope." Acts 2:25-26
I invite you to walk through the Bible together as we study, "God's Servants Teach Us Life Lessons." A study of the "old favorites" at first glance might be too familiar to be captivating. However, powerful lessons can be drawn from the real life events of God's people through the ages. God's Word is living and powerful. It is always current. Its lessons are given for our admonition and instruction. Let's trust God to teach us as we journey together with God's servants throughout 2019.
Cost $5 each, includes the cost of shipping. (2019 study)
12 LESSONS
1 A POOR WIDOW…Obedience brings blessings
2 RUTH…The Romance of Redemption LESSON
3 THE WOMAN AT THE WELL…Jesus Satisfies completely and forever
4 A LITTLE FAMILY IN BETHANY…We Shall Rise Again
5 HANNAH…A Godly Mother
6 ADAM AND EVE…The Problem of Temptation
7 JOSEPH…God Working Out His Perfect Plan (Part 1)
8 JOSEPH…God Working Out His Perfect Plan (Part 2)
9 NEHEMIAH…Build A Strong Wall of Christlike Living
10 STEPHEN…How to Die Victoriously
11 DORCAS…Showing My Love For Jesus in Practical Ways
12 MARY, MOTHER OF JESUS…God Keeps His Word

This study is updated from 1972 where they were printed in The Lutheran Ambassador. Note that this study has 12 lessons.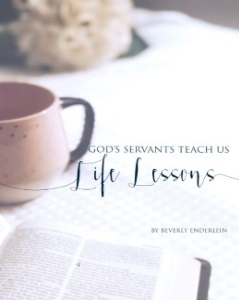 ACTS - A THEME STUDY
- by Joan Culler
Instead of a chronological approach, this study will address a wide variety of themes and their applications for us. What can we learn from the early followers of Christ? How did they respond to and resolve the problems they encountered? Can we imitate the living examples of ministry described? Can we, too, "turn the world upside down?" (Acts 17:6 ESV)
Cost of the ACTS studies $5 each includes the cost of shipping.
---
11 LESSONS
1 Prayerful Acts
2 Spiritual Acts
3 Healing Acts
4 Courageous Acts
5 Compassionate Acts
6 Joyful Acts
7 Encouraging Acts
8 Obedient Acts
9 Evangelistic Acts
10 Hospitality Acts
11 Unity and Reconciliation Acts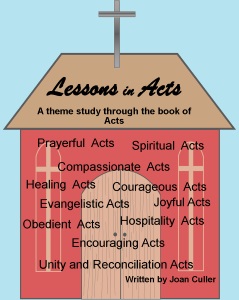 STUDY ON COLOSSIANS
- by Jeanette Berntson
This is a letter the apostle Paul wrote to the church in Colossae. Colossae was the prominent town in the Lycos Valley of Phrygia in Asia Minor (modern day Turkey). Hierapolis and Laodicea were also in that valley. Paul most likely wrote this letter when he was under house arrest in Rome in c. AD 60 (Acts 28.) He wrote several other epistles around this time.
Cost $5 each includes the cost of shipping.
---
11 LESSONS
1 Paul's Thanksgiving And Prayer
2 The Preeminence Of Christ: Pt 1
3 The Preeminence Of Christ: Pt 2
4 Paul's Ministry
5 The Purpose Of The Letter
6 Alive In Christ
7 Let No One Disqualify You
8 Living As Who You Are In Christ: Pt 1
9 Living As Who You Are In Christ: Pt 2
10 Living As Who You Are In Christ: Pt 3
11 Further Instructions And Greetings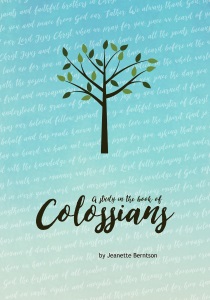 FOLLOWING CHRIST- A DISCIPLE'S WALK OF FAITH
- by Vicki Johnson
We are each called to journey with our Savior, a life-long walk that is uniquely suited to each believer's development and growth in Christ. Sometimes, we are tempted to compare our walk with another's, evaluating progression, perfection and punctuality. However, the evaluation lies within Jesus' jurisdiction, with the fruit of Spirit as evidence of our walk's success. But it isn't enough to begin the journey well. We must finish well, if we want to receive the reward. The Apostle Paul encourages us in Philippians 3:14, where he says, "I press on toward the goal for the prize of the upward call of God in Christ Jesus." Let's walk this walk in truth and humility with our eyes on Jesus and our hands outstretched to help others cross the finish line of faith.
Cost $3 each includes the cost of shipping.
11 LESSONS
1 A Disciple Walks in the Shadow of the Cross
2 A Disciple Walks in Obedience
3 Step by Step, Walk the Walk
4 A Disciple Walks with the Good  Shepherd
5 The Battle Between the Flesh and the Spirit
6 Trip ups, Short-cuts, and Taking the Easy Road
7 Walking in God's Favor
8 Joy in the Journey – Fruitfulness
9 A Disciple's walk of Influence
10 Passing the Baton – The Call to Disciple Others
11 A Fine Finish – Crossing the Finish Line of Faith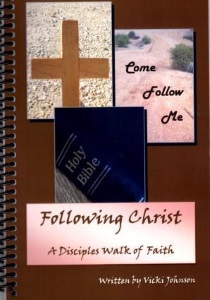 Other studies available:
(some  studies  may  have  a  limited  number  available)
Pearls for a Princess by Faylin Myhre - $3 each 
Joseph by Candace Johnson - $3 each
Gift of Grace by Nancy Holcomb - $3 each  
Sweet Freedom's Song by Mary Christenson -  $3 each  
Living Water by Bunny Meyer - $3 each  
Image of Christ in Women by Jane Emerson - $3 each  
1 & 2 Samuel by Joanne Segerdahl & Mary Clark - $3 each
Freedom's Holy Light by Mary Christenson  - $3 each