PERISHABLE

John 6:27 "Labor not for the meat that perishes." This verse was a key decision maker in my life. Rather than climbing the corporate ladder I chose ministry. I still do.
Yes, my job has a paycheck but to me it's so much more. I am able to give back to those who gave their lives for our country and its freedom.

Our name tags say, "taking care of America's heroes." It gets trickier to navigate these days. The culture has changed a lot in the decade I've been working there.
On Friday I had a senior moment that drove home the message for me.
I have a "church bag" and a "work bag/backpack.
When I got to work, I realized I had put my purse and tablet in the church bag. I had left my lunch at home. But did I really? I called my husband to have him put my lunch in the fridge. It would have "perished" in the eight hours on the couch. But I had my Bible that day.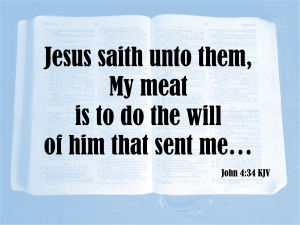 Jesus says, "My meat is to do the will of Him who sent me." John 4:34
Thank you, dear ladies who are doing work for the kingdom, today. Whether you are providing physical food for your families or spiritual. Treasure those moments when the Lord reminds you of the imperishable.
"The grass withers, and flowers fade, but the Word of our God will stand forever." Isaiah 40:8
Lavonne West