I was blessed to gather with the AFLC leadership in September. All Boards meetings are just that, a time when all the boards meet. It is required. Do you have those required meetings at your workplace that we murmur and grumble about? Not our favorite gathering but we attend because we must. The required meetings for our AFLC boards are just the opposite. It's a joy and honor to serve alongside of these folks. We serve a risen Savior and He's in the world today…I see His hand of mercy. I hear His voice of cheer…. You get the idea.
With a shift in leadership there is change happening. Lots has been said recently about climate change in our wonderful world. I know God has the whole world in His hands. And perhaps we think of Romans 8:22 where we see creation groaning. Farmers, and coastal dwellers, all of us see records broken for cold as well as hot temps. I left Minnesota on Sept. 26th and Montana had snow already.
Please keep those "new" leaders in your prayers. This is a great responsibility. Our WMF is facing a budget crunch. We long for passionate younger women to connect with our mission. Our Bible study for next year is very timely. We appreciate your prayers for God's Word to meet needs and penetrate hard hearts. Storms can be raging all around but you can have peace, dear ones, as you call on Jesus – the perfecter of your faith. Your light can change the climate around you today.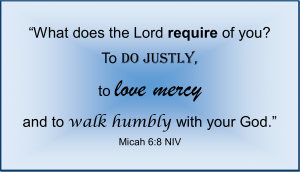 Lavonne West